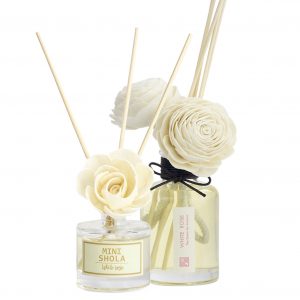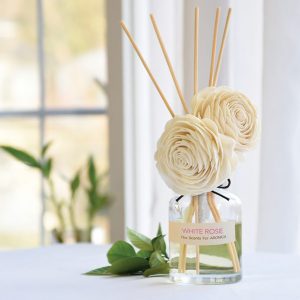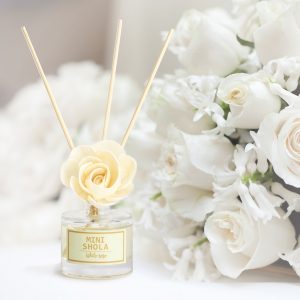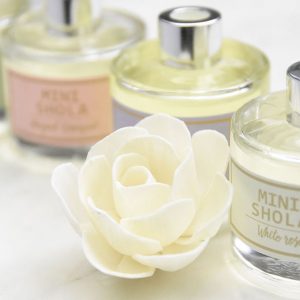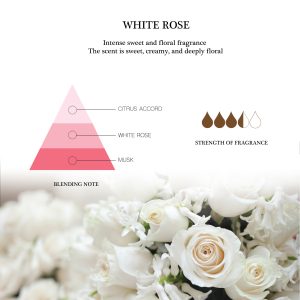 White Rose Sola Set – Twin Diffuser + Mini Diffuser
$54.98
BLENDING NOTE   :   CITRUS ACCORD / WHITE ROSE / MUSK
STRENGTH OF FRAGRANCE

Out of stock
Compare
CONTENTS DETAILS
[MINI DIFFUSER]
– One Fragrance Diffuser Glass Bottle (1.2 Fl Oz /40ml)
– 1 pcs of Handmade Sola Flowers
– 3 Natural Wood Reed Sticks
–  One Gift Box: 2.5″(W) x 2.5″ (L) x 7.5″(H)
[TWIN SOLA w/REFILL DIFFUSER]
– One Fragrance Diffuser Glass Bottle +One Refill Pack (4.8 Fl Oz /160ml)
– 2 pcs of Handmade Sola Flowers
– 5 Natural Wood Reed Sticks
–  A Premium Paper Gift Box :3.5″(L) x 3.5″(W) x 11″(H)
PRODUCT DESCRIPTION
Inspired by a white rose bouquet in the hands of a beautifully innocent bride, a touch of citrus adds delightful festivity to the feminine harmony of clean and tidy rose scent and warm and smooth musk fragrance. Decorate your air with lovely fragrances diffused by wooden twin sola flowers unfading in full bloom. Fragrance diffusion from two sola flowers can comfortably cover a larger space.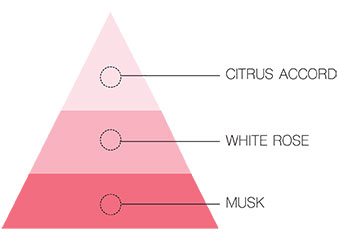 HOW TO ASSEMBLE THE PRODUCT
STEP1) Carefully unpack all of components, making sure to remove any packaging.
STEP2) Carefully remove the bottle cap and insert sola flowers and wooden craft stick into the bottle.
STEP3) Sola flowers and wooden craft stick will absorb the fragrance oil blend and diffuse the fragrance soon. Within a few hours the fragrance will be delicately diffused throughout the room.