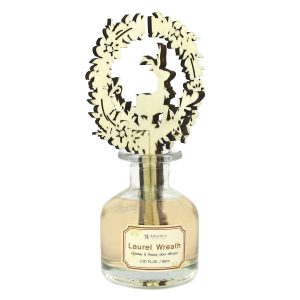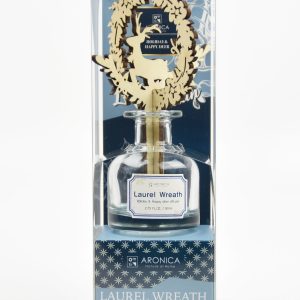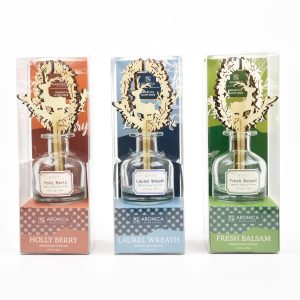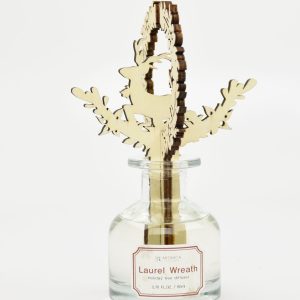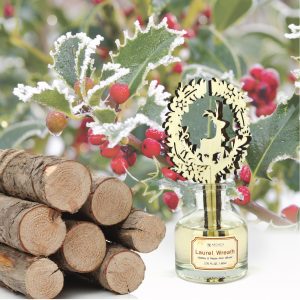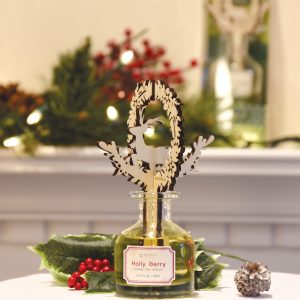 Holiday & Happy Deer-Laurel Wreath
$25.00
BLENDING NOTE (BASE) :  VANILLA / CEDARWOOD / HONEYSUCKLE
STRENGTH OF FRAGRANCE

Out of stock
Compare
CONTENTS DETAILS
One Holiday Fragrance Diffuser (4.06 Fl Oz /120ml)
Tree-Shaped Wooden Craft Sticks (2 pcs)
One Plastic Safety Holder
Ribbon with medal
One Gift Box: 3.7″(L) x 3.7″(W) x 9.4″
PRODUCT DESCRIPTION
Indulge into the festive ambience of winter holiday with our Holiday & Happy Deer diffuser. Wooden sticks are effective in fragrance diffusion by providing a greater evaporation surface than other diffusing materials like reed sticks. The blend of white cedar wood, patchouli and vanilla provides the deep, woody and warm atmosphere on which honeysuckle, mistletoe and spike lavender were added to whip up the romantic thoughts under mistletoe.

HOW TO ASSEMBLE THE PRODUCT
STEP 1 ) Carefully remove the wooden sticks and safety cap from the box. Insert the wooden sticks into the safety cap.
STEP 2) Carefully open the rubber cap by gently twist and pulling it out.
STEP 3) Insert the safety cap into the mouth of the bottle. Please do not press the branches of the wooden stick as it can break. Shortly, wooden sticks will diffuse the fragrance into the air.
| | |
| --- | --- |
| Weight | 1 lbs |
| Dimensions | 12 × 6 × 4 in |