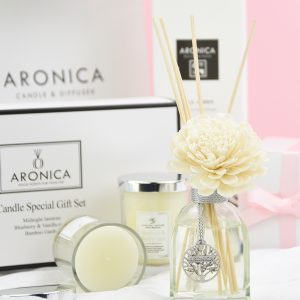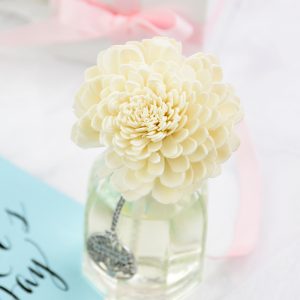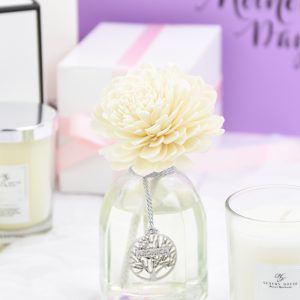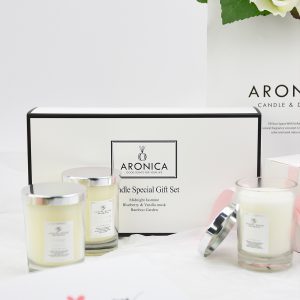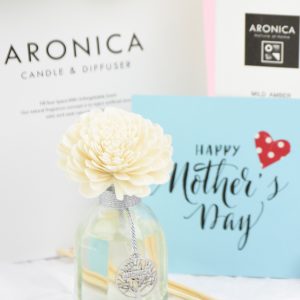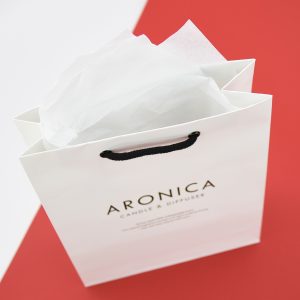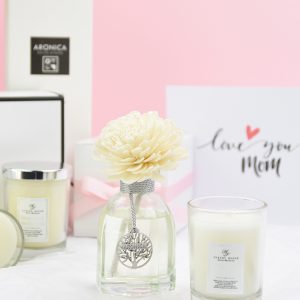 Chrysanthemum Diffuser & Candle Gift Set
$88.00
DIFFUSER BLENDING NOTE   :   CITRUS ACCORD / WHITE ROSE / MUSK
DIFFUSER STRENGTH OF FRAGRANCE

CANDLE FRAGRANCE :  MIDNIGHT JASMINE / BAMBOO GARDEN / BLUEBERRY & VANILLA MUSK
Approx. Burn Time : 10 hours / 1ea
Two Free Gift Bags
Only 1 left in stock
Compare
SKU:

OCTAGON SET

Categories: Corporate Gift, Gift Sets, Gifts, Products, Thank You Gift, Wedding Gift
Tags: Bridal Shower, Diffuser, Flower, Housewarming, Mother's Day, Reed, Thank you Gift, Valentine, Wedding
CHRYSANTHEMUM DIFFUDER CONTENTS DETAILS
 – One Fragrance Diffuser Glass Bottle (3.9 Fl Oz /130ml)
 – 1 pcs of Handmade Sola Flowers
– 5  Natural Wood Reed Sticks
– Silver Metallic Tread with a Silver Logo Medal
–  One Gift Box: 3.5″(L) x 3.5″(W) x 10″(H)
– Aronica Logo Gift Bag : 8.25″(L) x3.25″(W) x10.75″(H)
PRODUCT DESCRIPTION
A perfect combination of a handmade flower made of sola wood in a stylish 8-faceted glass bottle with a uniquely designed silver medal hanging on a silver strap. Inspired by a white rose bouquet in the hands of a beautifully innocent bride, a touch of citrus adds delightful festivity to the feminine harmony of clean and tidy rose scent and warm and smooth musk fragrance.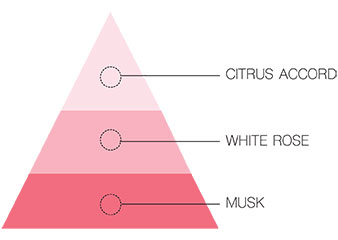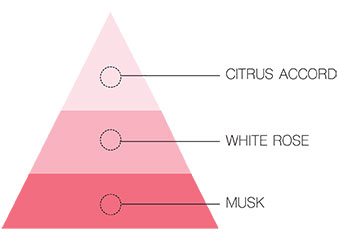 HOW TO ASSEMBLE THE PRODUCT
STEP1) Carefully unpack all of components, making sure to remove any packaging.
STEP2) Carefully remove the bottle cap and insert sola flowers and wooden craft stick into the bottle.
STEP3) Sola flowers and wooden craft stick will absorb the fragrance oil blend and diffuse the fragrance soon. Within a few hours the fragrance will be delicately diffused throughout the room.
---
CANDLE SET CONTENTS DETAILS
3 ea of Premium Wax Candles in Glass Container  with Top ( 100g )
One Gift Box: 4.5″(W) x 4.5″(L) x 5.5″ (H)
An Aronica Logo Gift Bag
PRODUCT DESCRIPTION
Luxury House Candle Gift Set consists of our three most beloved fragrances: Blue Berry & Vanilla Musk, Midnight Jasmine, and Bamboo Garden. Based on our unique blend of wax, we have added the three fragrances of distinctive characters to decorate your space in various ambience. Enjoy the warmly spreading scent with our Luxury House Candle Gift Set.
FRAGRANCE DESCRIPTION
MIDNIGHT JASMINE  : Great candle for our lovebirds. Our exotic Jasmine fragrance will attract your loved ones with flowery and musk notes helping you to create a warm and inviting atmosphere. Ideal candle for you bed room where its aroma will give you inner peace and serenity.
BAMBOO GARDEN: Perfect combination of earthy and fresh, green aromas. Once candle is lit, your room will turn into an endless bamboo forest filled with soft notes of clean and fresh fragrance. Clear you minds and take a walk in your bamboo forest.
BLUEBERRY & VANILLA MUSK : Your hot summer day will be complete with a rich, creamy scoop of vanilla ice cream with fresh, tangy blueberries on top. With this candle, you will surely enjoy your blueberry Vanilla ice cream right in your room. Hint of musk notes will provide relaxing atmosphere for your mind and body. The perfection.
Caution
– Please do not use for other purposes.
– Keep out of reach of children and pets.
– Wash hands and flush eyes if they come in contact with contents
Additional Description
Aronica Sola flowers are made from the stems of Sola plants. Sola Plants are a type of reeds that are native to the South East Asia. The plants are peeled and folded into various shapes of petals in the hands of master craftsmen.
The wooden petals of sola flowers will rapidly absorb the fragrance from the container until it is soaked which may appear to be running fast. Then, the petals will diffuse fragrance into the air through evaporation. Therefore, the speed of evaporation can vary with the environmental conditions such as temperature, humidity. Since the wooden petals can hold the fragrance, you can still enjoy the fragrance for sometime after the bottle becomes empty. Sola petals are effective in fragrance diffusion by providing a greater evaporation surface than other diffusing materials like reed sticks. Even a small sola flower diffuser can comfortably cover a larger space. You also can control the fragrance diffusion with the number of sola flowers or reeds. Decorate your air with lovely floral fragrances diffused by unfading sola flowers. It is ideal indoor decorations for any household and a perfect Home décor gift.